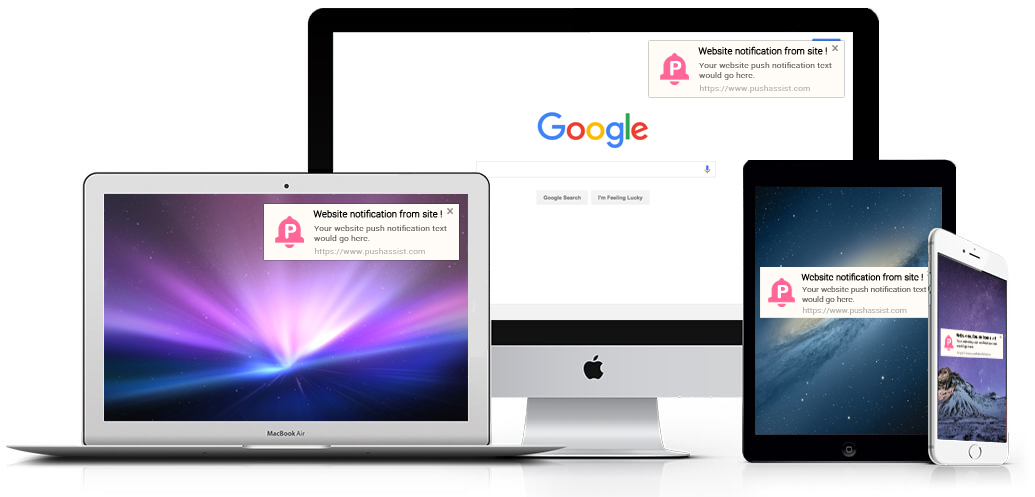 For Bloggers and publishers running a site or a personal blog, increasing reader base is a primary target to promote content and news to a larger section of the audience. A normal concern is to convert normal visitors to subscribers for steady reader base. In this process of conversion, different types of subscription services, including Email Newsletter, RSS Feed subscription etc. are used.
Like all of the above-mentioned services, there is one really effective service known as browser push notification. You can integrate this subscription service in your website to give site visitors a more effective way to consume content.
Browser push notifications is a powerful medium for content development sites to engage readers. It works very similarly to app notifications, except that now you don't need to invest in an app to send notifications to your readers.
Publishers and bloggers can implement browser/web push notifications to:
Build Subscription list
Building huge base of subscribers is the main point of focus for any digital marketing strategy. For this, bloggers and publishers regularly keep coming up with fresh and relevant content. They also offer perks and downloads such as informative webinars, guides, e-books unique growth approach.
PushAssist is a highly impressive tool, which fulfills all the challenges faced in developing a subscriber base. An extremely easy to integrate and a quick subscription option for both HTTP sites and HTTPS sites. A single click subscription option makes it less tedious, time-consuming and easy option for customers to opt-in, which in turn boosts the subscriber conversion rate.
Bloggers and publishers can use this tool for any browser, including Chrome, Firefox, and Safari on any devices like mobile, tablet and desktop. A visitor has to just tap once to subscribe without sharing any personal information.
Boost traffic with best-performing content
Increase your traffic by 40-45% of blog or website with a startling content. If you are confident that your blog is full of amazing, interesting and useful content, but facing trouble in attracting traffic, then Browser Push Notification is a right solution for this problem.
With this tool, you can attract new visitors and easily re-engage them. Experience higher click through and opt-in rates for the campaigns you run. Various studies reveal that push notification is very effective with more than 80% opt-in rates. This tool can help you in generating new visitors on regular basis and also entice the old ones to keep looking for the new content being published.
Trigger Time Sensitive Content
Publishers can easily deliver notifications for real-time content such as breaking news, weather reports, and updates, stock market news etc. They can also easily schedule event notifications to inform users in future.
Target Mobile Users without a mobile app
Browser push notification kills the need of a mobile app. It saves you from investing a huge amount of money required to develop cross-platform apps. Instead, this revenue can be further utilized in targeting on marketing strategy and campaigns for enhancing the subscriber base.
This doesn't mean that you cannot target strong section of mobile users. Companies need to strongly focus on an ever-increasing number of mobile addicts. Hence, browser push notifications are built to perfectly cater this need. They work on both android as well as iOS devices, offering more opportunities for bloggers and publishers to grow and re-engage their visitors on multiple devices.
Why browser/ Web push notifications
Email Marketing doesn't work now
Trigger notifications to inform your loyal readers about a trending deal, a pending message or a new blog, web content update - with browser push notifications. This tool not only offers real-time delivery assurance but also makes it really difficult for your readers to miss on your updates and messages.
Social media is muddled
Bloggers and publishers can use push notifications to seamlessly communicate with subscribers. Timelines of popular social media sites such as Facebook and Twitter is being flooded with the high amount of content every hour. This has reduced the attention and interaction span of subscribers making it extremely difficult to have clear communication.
Recent studies reveal that that only 0.07% of Facebook and 0.03% of Twitter audience interacts with your updates on social media.
Get more subscriber:
Subscriber list building is easy with web push notifications. It not only provides value and rich experience but also converts website or blog visitors really fast, in turn helping bloggers and publishers build an engaging audience very quickly.
Higher Revenue:
Notify your subscribers with updates using push notifications because metrics say that only 0.07% of your Facebook & 0.03% of your Twitter audience interacts with your updates on social media.
So, what are you thinking? Reap more benefits, right from content ingesting to monetization at every step with browser push notifications.
Choose Push Notification services from PushAssist- Click Here
Check out the best email service providers available in the market.