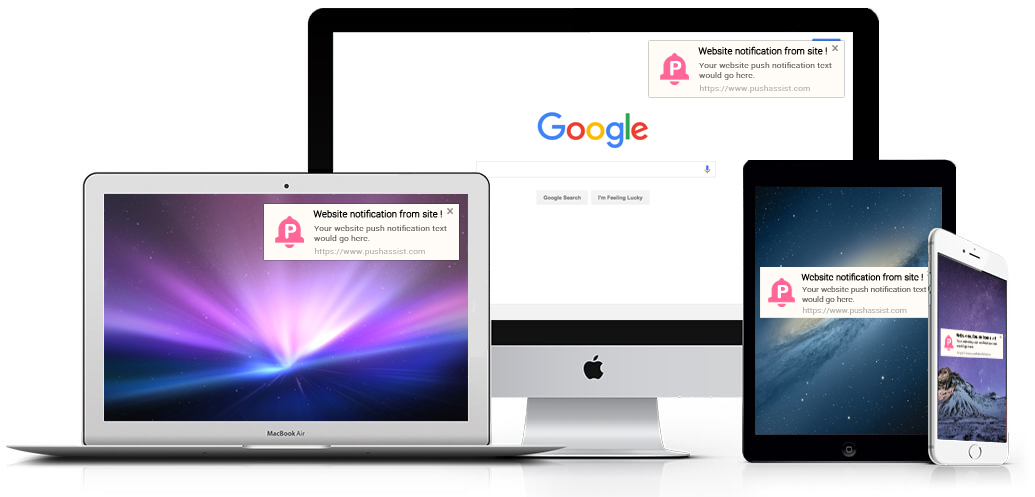 Push notification is a unique marketing tool that allows mobile apps, websites and browser extensions like Chrome, Firefox, and Safari to send alerts to website subscribers. First seen on mobile, push notifications are now compatible with computer or laptops, even when the user is not active on mobile or desktop browser.
This impressive communication medium can be implemented for multiple purposes, ranging from the latest news updates to a drop in the product price you've been eyeing for a long time. Retail stores can grab the attention with exciting offers when the user is physically present near the store.
There are numerous benefits of using push notifications for your website. Let us check out some of the main ones,
Direct Real-Time Delivery
Web Push Notifications can be straightforwardly delivered without delay in the notification bar of the user's mobile phone or desktop browser, even if they are not glancing through your website. Push catchy and irresistible messages for maximum benefits.
Comprehensive reach across all browsers:
Today popular browsers like Chrome, Safari, and Firefox all support push notifications. Even now these browsers continue to dominate the internet world with nearly 65%-80% visitor share. So, leverage the immense reach of this marketing tool to engage, convert and retain valuable customers.
No Spam, No Criticism
Overcome one of the biggest flaws of email marketing with web push notifications, a 100% consent driven communication channel. When a user arrives on your website, a small dialog box asks them for their permission to send push notifications. If they click on 'Allow', your website can start triggering notifications even when they are busy on some other website.
So, stop worrying about messages ending in the spam folder and the criticism for sending frequent messages. Easily interact with the user with the message that is really hard to miss.
No need of Contact Details
Now no need of constantly probing users for their personal details. Web or browser push notification can now easily handle subscriptions on behalf of users. This is not only great news for users but for marketers too. It also means customers can't provide fake details.
So, opt web push notifications for hassle free communication.
High Opt-in Rate
One of the biggest advantages of push notification is that messages are prompt delivery. Moreover, users don't have to share their personal information or contact details. They can easily unsubscribe from receiving messages if the messages do not interest them. Hence, users often tend to opt for web push notification as compared to emails. This ensuring opt-in rate than other forms of communication mediums.
More Conversions and High Business Revenue
No doubt, this has to be one of the unique reasons for marketers to choose push notification as the most effective medium of marketing. Recent studies clearly prove that push notification successfully increases the website conversion rate by 35- 45%.
Interested? Stop Thinking, Opt for tools like PushAssist to try it for free- Click Here