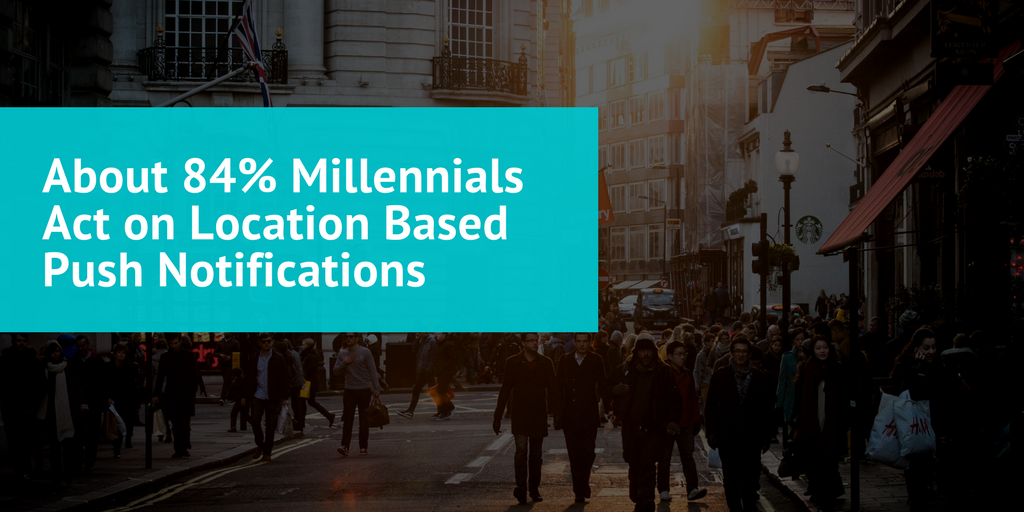 Obviously different countries, different states and people belonging to different cities have different likings, interests, and stands. Hence, location-based push notifications are playing a huge role, not only in user acquisition but in engagement too. They are the actual differentiators between winning, converting website and one with higher drop-outs.
Tune's Whitepaper
According to the whitepaper, nearly 84% millennials (adult men and women from 18-34 years age group) are likely to respond or take actions when push notifications are specially crafted based on their current location. Location data is one connecting dot every marketer must focus on.
Brands and online marketers must have an attraction, conversion, and engagement strategy in place to convert a new user into a loyal user. To ensure this they must adopt a holistic communication approach by including personalization, segmentation, and location-based push notifications.
How to convert users to regular users?
Find out the regions where your product or service performs best and benefits more users. Target users with the personalized messages, one-to-one interaction for effective communication. Avoid the following mistakes made by most marketers and businesses while triggering location based push notifications
Relevant Messages
Don't deliver "raincoat sale" message to a region if it might not be raining where the user is located. If you're running a promotion for a store based in Manhattan, then target users in Manhattan within 5-10 miles.
Get your timings right
Research well to see how far people commute into your city and when. Trigger push notifications when most people are near to your physical store.
Types of location-based information they prefer
The information millennials preferred are,
61% prefer coupon, discount or deal to use immediately
61% millennials like customer rewards information
35% love new product launch and sale information
35% like to check nearby store locations and store open or close information
27% receipts after completing a purchase
16% want in-store guidance on where the product they are looking for are kept
Circumstances when they won't respond
Here are some of the few popular circumstances when millennials tend to neglect your message and not respond at all
39% don't respond when they feel this message is not for me i.e. completely irrelevant
25% don't interact when they keep popping on screens too many times,
14% millennials neglect push message that doesn't include deals.
34% hate push messages that are intrusive in nature
11% get annoyed when push messages are delivered during their work hours, i.e. poorly timed messages