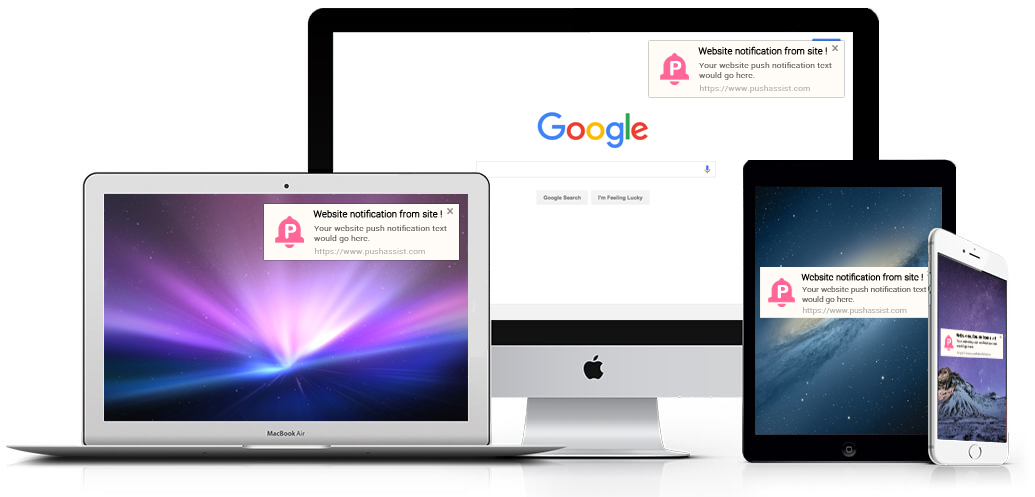 Building a successful marketing strategy for constant engagement and higher return on investment can be very difficult. Push notifications can be an effective tool to bring back dormant and new users, but breaking through the clutter given the explosion of mobile and website users.
Companies are spending a significant amount of money to enhance engagement, and drive more sales, but without much success. Fortunately, studies by marketing platform reveal that a relevant, targeted and personalized push notification can deliver far better results as per expectations.
Curious, how much?
For mobile apps, Leanplum analyzed 1.5 billion push notifications, the results showed that marketers or companies that used personalized push notifications increased their opt-in rate by 800%. For websites as well the results are staggering. Personalized web push notifications boost the response rates by up to 4 times.
So, let us understand exactly how to increase website engagement by sending personalized push notifications in the right way.
Tweak your strategy a little for big increase in customer loyalty
Welcome Customers
When a visitor signs up for push notifications, kick-start the personalized notifications by welcoming them.
For example: Send a push notification as soon as he signs up saying that
"Thanks for subscribing our push notifications."
Welcome messages play a huge role when it comes to customer retention. Businesses that sent on-boarding push notification within the first week, increase their customer retention rate by 71% for next two months.
Deliver content across multiple channels
Do you know that delivering content on multi-channel is essential in assisting users with setting up and engaging? Push notifications are known for clear, concise messages that can accurately convey the importance and worth of visiting your website or using your app.
While using multi-channel approach, you need to collect user's data across channels so that you can better track and adjust to their behavior.
Using push notifications with multi-channels increases retention rates by 130%.
Furthermore, time-sensitive campaigns and store promotions require to have loomed with extreme care as often use of push notifications can also lead to high opt-out rates.
Gather data from Analytics
Make use of analytics to understand the behavior of the user before sending personalized push notifications. Capturing user data from websites and other channels can help you in sending more accurate push notifications.
So when tagging your users, you want to think of both behavioral data across multiple channels. Analyse users based on following key factors:
Demographics (Age, gender, birthday and location)
User preference (List of interests)
Attribution (Usage tier, marketing campaigns viewed, last purchase date)
Other factors (Topics/products viewed, marked as favorite, invited friends or shared on social platforms)
Addict More Users
Getting website or mobile subscribers is just a part of a successful campaign. Get large pool of users addicted even when they have not opened your app or visited your website for a while. But sending vague messages to all subscribers is really not cool. Sending generic promotion messages that they don't care about, will only annoy them.
Only 15% of users convert after clicking on a broadcast promotions. This number rises to 54% when enterprises deliver messages users like to know.
So, easily convert users into loyal customers by carefully segmenting them as per their unique interest. Delight them with messages based on their birthday, gender, location or last purchase. So, that they pay attention when they see your notification. They will be excited to see whatever you are offering.
Carefully watch engagement level
Pay attention to the engagement levels. Check how many users click on push notification, how many of them have shown interest in reading the information, products added to cart, products bought and much more. If a customer is not engaging, send deals with different call-to-action.
Push is a very effective way of engaging with your user, more effective than email or other channels. To start sending your first effective personalized push notification, check out PushAssist notification platform, click here.