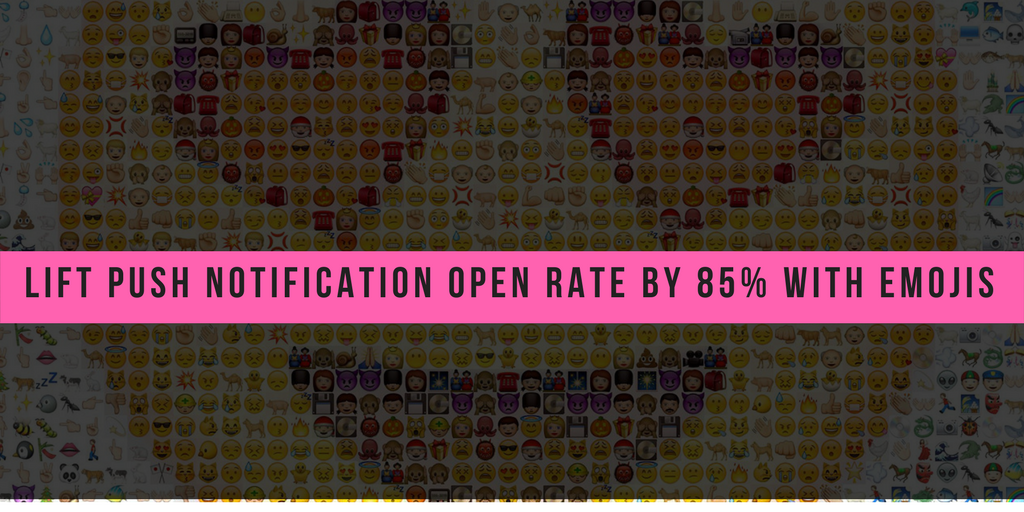 Emojis- a new internet vernacular, loved by everyone. With over 6 billion emoticons and stickers sent in a day, it is absolutely clear that everyone loves visual and animated communication. At some point in time, even you might have used an emoji in text message or emails. Emoji was also declared as the word of the year for Oxford Dictionaries in the year 2015.
Why include emojis in push notifications?
Including Emoji in push notifications is super easy. So, here are some reasons why you should add Emoji to your push notifications:
Boosts engagement by 85%
Given its popularity, it is no surprise that emojis can boost the web push notification open rate by 85%. According to the research conducted by Leanplum, web browser push notifications that didn't include emojis had a 2.4% open rate, whereas those with emojis had a 4.5% open rate, an increase of 85% in open rate.
Enhances conversions by 9%
A recent study conducted by Mobilityware, a mobile gaming company, found out that emojis have a direct impact on call-to-actions. They tend to increase the conversion rate by 9%.
Increases Retention Rate by 28%
As per the experiment conducted by a design website, Canva, use of emojis increased their user retention rate by nearly 28%.
Android is more effective than iOS
To understand the effects of emojis on different platforms, Leanplum analyzed the open rates of emoji push notifications on both Android and iOS. In Android, the open rate of web push with emojis is as high 135%, whereas the open rate of push notification is just 50%.
Due to emojis both platforms experience an impressive rise in engagement rate. But as Android has a higher open rate as compared to iOS platform — android has a huge edge over iOS and benefits even more.
Because Android push notifications stay in the notification tray for a longer period of time than on iOS and hence, users have more time to see the emoji and respond to it.
Millennials Love Emojis
Millennials, adults from the age group of 18-34 years, love emojis and tend to engage more often with the messages containing emoji. If your target customer belongs to this age group, then including emojis in the push notifications may help in attracting, engaging and converting millennials to generate higher business revenue.
How do emojis really increase engagement, conversion and retention rate?
As per the recent study, human brains react to emojis exactly the same way they react to the expressions of the people's face. As they are nonverbal, but clearly represent the feelings of humans and hence, is processed as an emotional signal, not a logical one.
Emojis attract different parts of human brains and therefore has a chance to make an impact beyond the pure logic of the message. In plain words, emotions have better of our brain thus processing it rather than logical