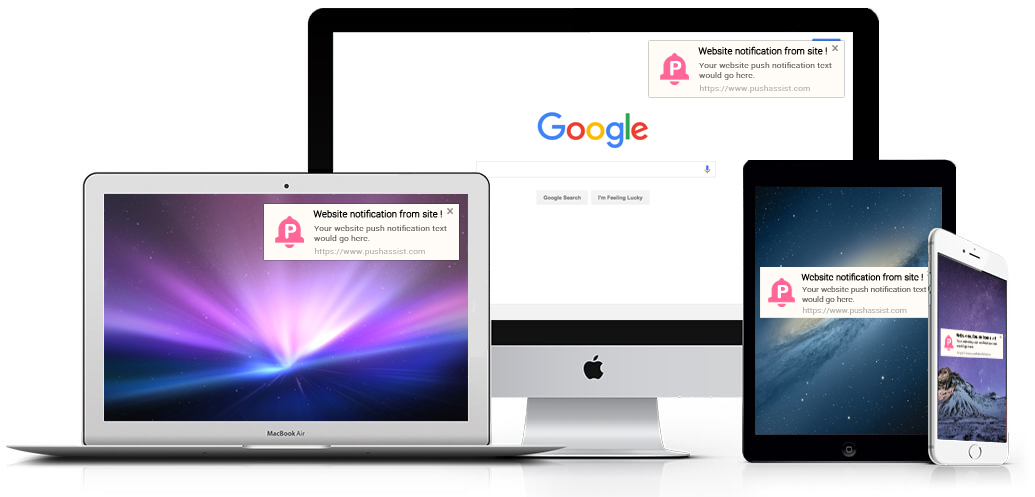 In today's technology dominant world, marketers have a plethora of communication channels to choose. They are constantly opting for new mediums to grab the attention of users and retain them. But, the competition is fierce, which is forcing them to constantly experiment and spend a huge amount of bugs on different channels.
Moreover, evolving internet and availability of myriad content is resulting in shorter user attention durations, which is making marketing a product or service trickier. Mobile has also become non-negotiable. Also, with growing number of users that are using their mobile as a primary device to interact has made the situation even more challenging.
That's exactly where push notifications pop-in. A single click, actionable communication channel for all business. Easily send targeted notifications for different audience segment, including updates, news, product launch and much more
In this blog, we have listed best push notification tools to make your marketing efforts easier,
Increase your website and app engagement:
A recent study by small business revealed that nearly 46% of users like receiving relevant, personalized alerts. It also indicated that 70% will click push notification if users are interested.
Push notification tool is a medium that allows you to send real-time messages directly to customers whenever you want. It is also a great way to re-engage users. The best part is you can communicate with users without asking for the email address or any other information. Push Notifications have already succeeded in creating a thrill in the digital environment. It is a very popular medium, particularly with verticals like e-commerce, banking, gaming, and publishing.
Wider Browser Reach
Chrome, Safari, and Firefox browsers nearly have 80% of combined market share. Leveraging tools such as PushAssist which supports these browsers can help your business make noise in wider masses. On an average, web push notification click-through rates hovers between 25% and 30%. Almost 10 times more click rate then emails.
Send your business critical messages that are hard to miss directly on the screens of the users even if they are busy on some other webpage. Instantly set their eyeballs rolling on the enticing message that you have just sent.
Double the open rate with segmented push
Targeting is important for successful campaigns. Therefore user perspective and behavior data is also important. It is extremely vital that you broadcast messages that are meant for the specific audience. Sending unsolicited messages will only drive the users away.
So, gather information like interest, site-actions, geo-location, time zone, primary device for interaction, the best time to communicate and much more.
According to Loyalitics, 52% of users opt in to receive push notifications on mobile only. The number is slightly higher for Android. If we breakdown as per platforms 59% Android and 46% iOS users opt-in for push notifications. Over half the users are interested in enabling push notifications, marketers or business owners must use this medium for communication.
Target right users with geo-targeting
No doubt, a generic web push messages can bring your users back to your website or mobile app, but it is not at all necessary that they will convert into potential buyers. As per Loyalitics, sending intelligent notification can result in three time higher conversion rate. Send offers that are applicable to their region and as per their time zone. Target users according to country, state or city, as per your campaign needs.
Analyze how it performs
With Advanced Push Notification tools, marketers can easily analyze the performance of their push notification. Analyse number of clicks, time taken to interact with your notification, time spent and much more. New users can easily test their notifications to understand the customer behavior before launching a full fledge marketing campaign.
Few more stats indicating why users enabled push notifications
The stats are the results of a survey conducted by the global marketing company Responsys.
50% enabled push for an access to exclusive offers
44% to track their online orders
36% to access various brands on the move
34% to receive real time notifications about product availability
29% to stay up-to-date with new products and services
28% to receive geo-location based notifications
25% to improve their website user experience
Statistics prove that Push notifications play a huge part of digital marketing now, and every, small or big business should now this. For huge return on investment and higher revenue try PushAssist Push Notification tool. Click here for free trial.