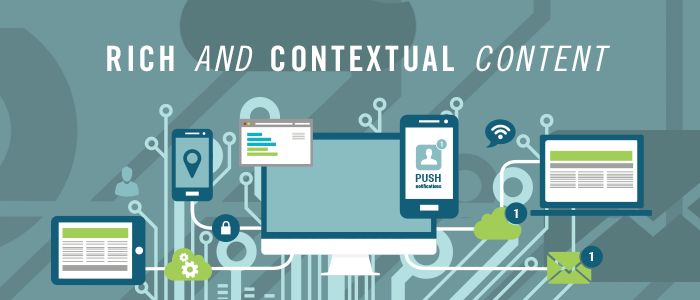 How to get more subscriptions and tackle the heating competition in 2017? This question might be bugging many e-commerce players right now. As research by Smart Insights reveal that 2017 is the year where competition in e-commerce is all set to rack up by another notch.
New entrants and established e-commerce brands like Amazon, Flipkart, Alibaba and more are pushing hard, constantly evolving to achieve a significant share of e-commerce market as increasing number of the populace is shifting online.
So, we have formulated top push notifications for all e-commerce players. Integrate these message channel in your marketing strategy to increase sales and revenues of your online stores
Authentication Campaign
Authentication campaigns encourage anonymous users to log in, usually by giving them added value with exclusive offers or updates, such as shipment alerts, once they register.
Encouraging users to disclose who they are is exceedingly essential from analytics, profiling and engagement perspective. After authentication, you can check the history of all the actions they are taking— what are they browsing or buying? Things or products they like.
A unified view of customer behavior on desktop and mobile, the browser they use, the region they belong too is extremely vital for targeted marketing efforts. Always communicate with the customers as if you know them and understand what they require.
Incentive Campaign
The incentive campaign lures the user to complete the desired actions by offering attractive rewards as incentives. Thereby encouraging a habit.
What your users normally search? Products they like or brands they use etc. offers a wealth of information about the kind of shopper they are. With advance features you can easily narrow down searches based on price range, color, brand, price, and many other attributes—all incredible insights into a user's preferences.
Wish-list Campaign
The wish list campaign encourages users to curate their personal shops on desktop or mobile.
All customers have desires that inspire them every single day. The brands that can help fulfil their desires are the ones they tend to remember. When people take efforts and carefully curate their desires through saved wish-lists, they create positive experience and build strong bond with that e-commerce store. You get a sense of their preferences, understand what they really want and the brands they like, among others.
Geofencing Campaign
Location-based or Geofencing campaigns can be sent to users within a specific geographical area.
Deliver relevant messages that's specific to that time and place. Brands for the first time can connect the behaviors and preferences customers revealed on web and mobile with their online activity. If they have shown interest in a certain product, you can capitalize on it by sending reminder notifications to entice the user to check out that item. Use geo-location data to drive high conversion rates.
Cart Abandonment Campaign
The cart abandonment campaign reminds users that have placed an item in their cart but have not purchased to finish checking out. Depending on the type of shopper, try sending messages that respect the level of investment in your brand.
Analyze why customers abandon their shopping cart. Most of them do so because they found the process too complicated to finish in one go. The other reason might be that they need more time for shopping and make a decision. In both cases, there is an intent to buy. So, reminding users about their products in the shopping cart may force them to return.
Time Sensitive Campaigns
Time sensitive notification campaigns are very effective in encouraging users who have unsubscribed or are not regular visitors to re-engage.
Instead of spending more time and money in acquiring new users, send time-sensitive notifications to such inactive users, and add in urgency about the value of your app. A targeted campaign with urgency can help push non-engaging users back on the track of becoming loyal customers.
E-commerce brands can leverage personalization, segmentation, real-time messaging, and location to stay on top-of-mind. Utilize comprehensive push notification tool by PushAssist to boost sales and generate higher business revenue.