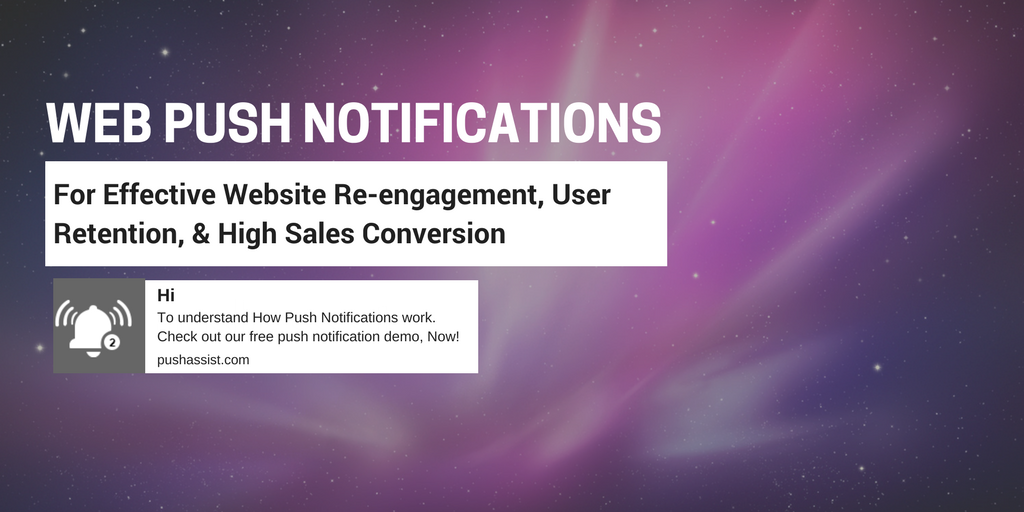 Today, web Push Notification is one of the most effective tools in digital marketer's toolkit. It has gained a huge credibility as an effective and powerful platform for communication. It is a great way to entice users to visit your website or an app again and again.
However, for a new marketer or a manager, interested in implementing this communication channel, there is a lot to learn. Don't worry, it's not that difficult? PushAssist has made learning easier for you. Just follow this guide to craft gorgeous messages that grab user attention whenever you want to interact.
What is Push Notification?
Web push notification is a simple message from a website or a mobile app. They can be delivered on user desktop even when they are not browsing the concerned web page. In smartphones, notifications wake-ups the handset and alerts the user with a message on the home screen. The user does not need to have app opened to receive a notification.
Push notification is a promising marketing channel to re-engage visitors without knowing their email or other contact details.
Browsers that support Push Notifications
OSSupported by
AndroidChrome 42
Mac O Chrome 42, Firefox 44, Safari Mavericks
Ubuntu Chrome 42, Firefox 44
WindowChrome 42 , Firefox 44
Why is it a buzz word in the current digital arena?
Easy to implement
Kills the need of mobile app
Assured delivery of message
Audience segmentation to broadcast targeted alerts
Insights on user preferences and behavior
A/B testing, deep-linking and more
Helps achieve higher click-through rate
Increases user retention
Reduces website bounce rate
When different business send push notifications?
Push Notification has gained huge popularity because it makes the communication impossible to ignore. It can help your business provide value and rich user experience. So, let us understand the need of this effective and efficient communication medium
For Real-Time Interaction
Sports website or app use this communication channel to keep the users updated about the live scores. Similarly, publication or news apps use push notification to broadcast latest stories or breaking news to their subscribers.
Social media sites and apps have also utilized these feature to the fullest. Facebook, Twitter, LinkedIn, regularly send push notifications to nudge users about different events and actions related to their profile.
For sending critical alerts
Airline website or travel apps can use push notifications to send time-critical alerts informing their subscribers about airline ticket prices, upcoming bookings, or changes in flight timings.
Physicians and doctors can send alerts regarding the scheduled appointment, medicines and more. They can also craft health-related notifications to constantly remind their patients about the importance of our health and how to maintain it.
For transactional notifications
Push notifications is the quickest way to send transactional alerts. They are sent to notify the users about order confirmation, payment success or failure, refund, billing updates, account update, sign-up confirmation and much more
For Events, Sales and Promotions
Ecommerce shops use it to announce a limited time sale, drive customers to their website with exciting offers and thrilling discounts. Send alerts to users who are watching out for the price drop on specific products. Also, to notify shoppers about new wait-listed product arrival.
Reminders
Update them about the pending products in their shopping carts. Different e-commerce sites have leverage this messaging service to successfully tackle the cart abandonment problem.
Banks send reminder notifications to inform users about loan payment or new offers like a free credit card, instant loans and much more.
Win back inactive users
Push notification is a superb way to re-engage dormant users. Many online businesses use it to grab the attention of users with meaningful communication. Send a notification to users who have not been back to your app or website for more than 30 days. This keeps the business website top of users mind and increases the chances of them returning.
By now you must have developed a pretty good understanding of what exactly push notification is, why marketers or businesses are opting for it and in what scenarios they are used. Stay tuned for more information on how to setup push notifications.
If you want to start sending web push notification for your website. Click here